A system consists of multiple components – applications, databases, servers and more. Each component generates a different type of alert with different context payloads and might not even be monitored by the same tool. No matter where the alert comes from, TaskCall processes them to create insightful incidents and provide a uniform view of each, making incident management seamless. Easily keep track of all the incidents that are occurring on your system from the mobile application, web application or our built-in chat-ops or customer support integrations. Make incident tracking effortless.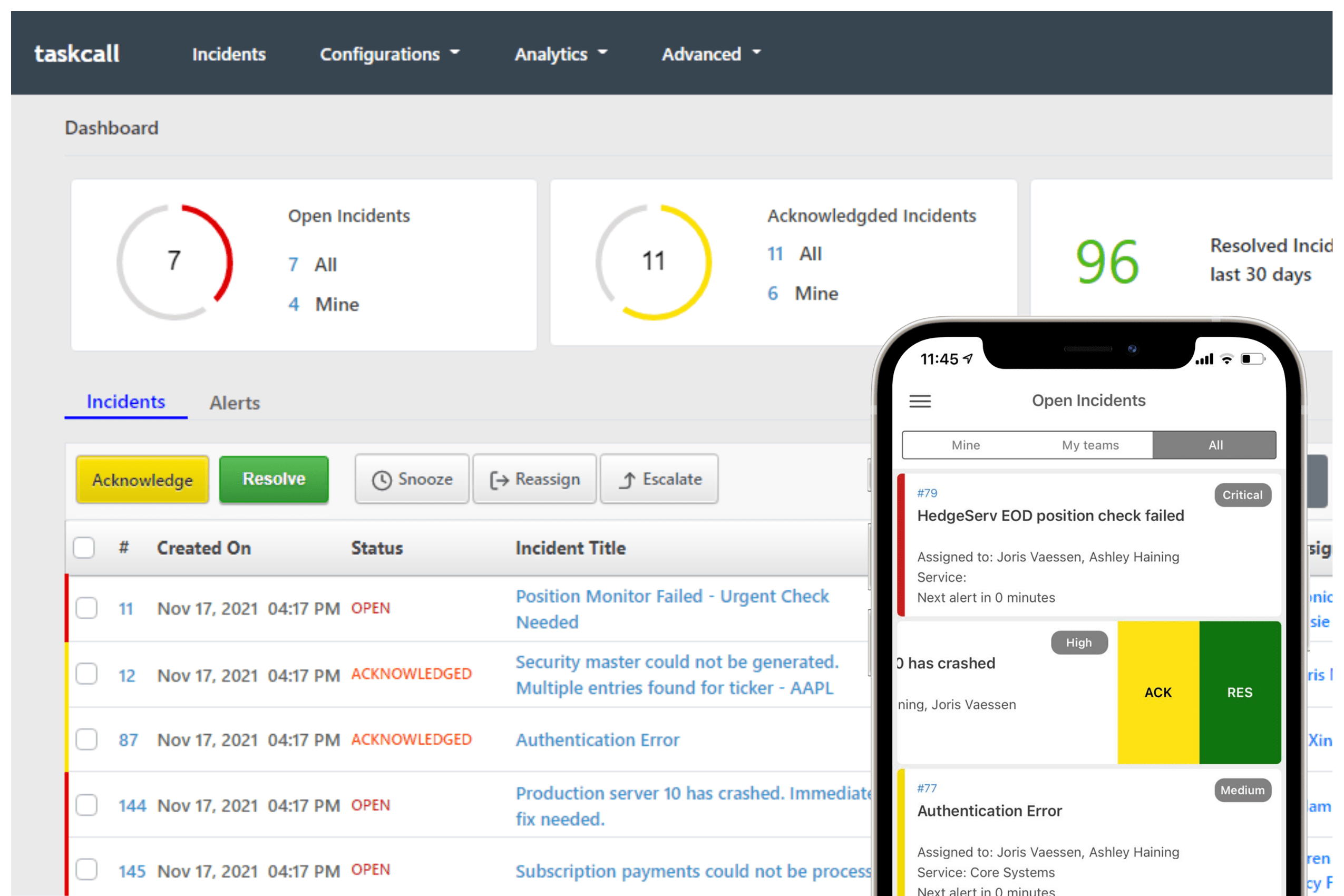 Monitoring tools identify system issues and alert a static endpoint, but they are not designed to ensure that someone has noticed the alert and working on it. If they are configured to alert you every minute, they will continue to do so even if you are already working on it. That's where TaskCall's incident management system steps in to make your life easier. TaskCall reduces unnecessary noise by grouping similar alerts into one incident. If you are already working on an incident, notifying you every minute will only be interruptive and distracting. TaskCall excels at keeping you focused on what matters. Redundant alerts will get grouped or suppressed by the system automatically.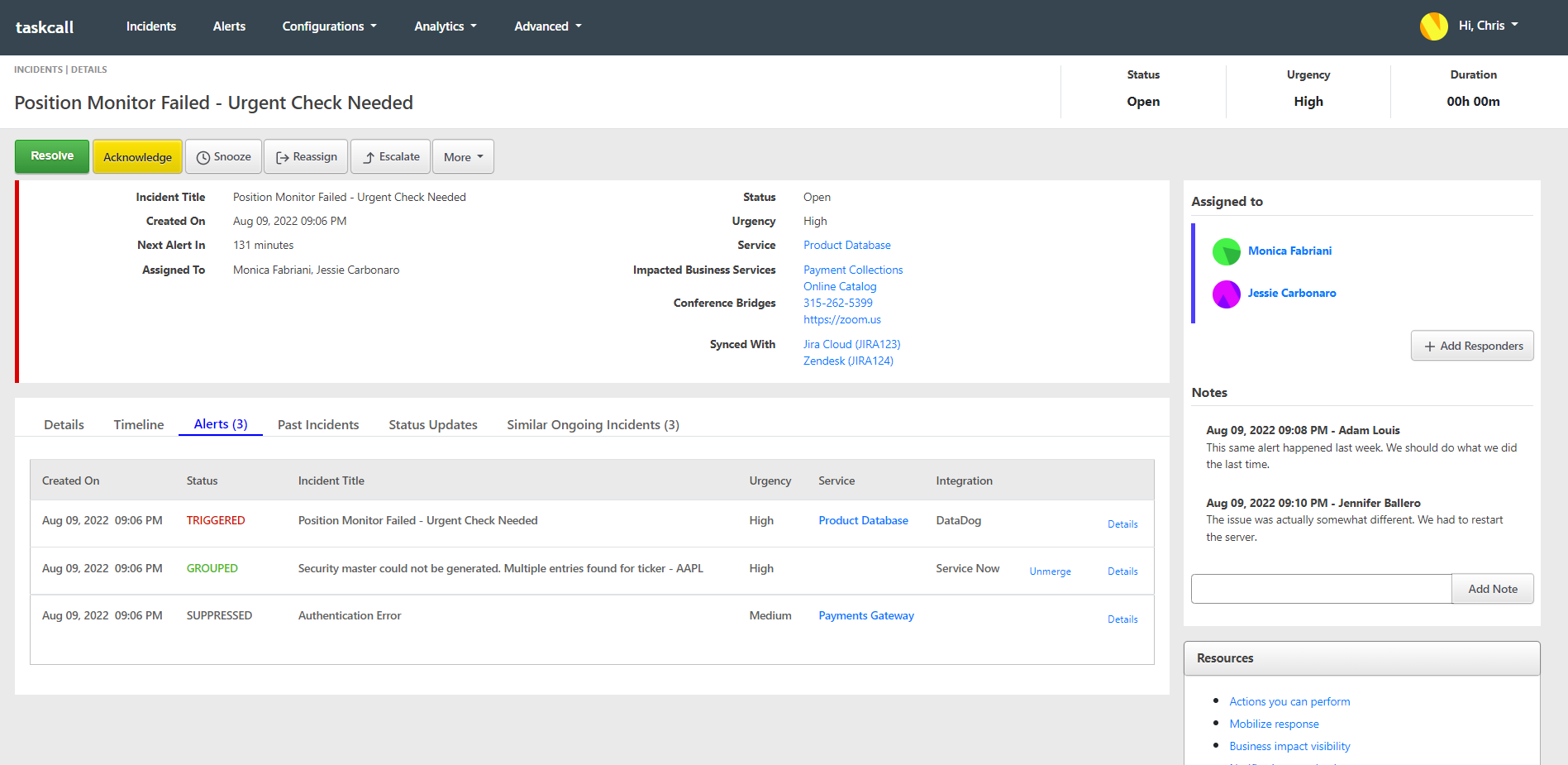 When monitoring tools trigger alerts, they usually send a JSON payload. Although dev-ops engineers are fully capable of handling JSON data, most others are not. TaskCall processes these payloads to provide contextual insights and information to the incidents so anyone can easily understand and visualize what is happening under the hood. Get comprehensive incident details, snapshots and graphs. In the case of live call routing, you can also get recorded voice messages. Without having to go into each monitor separately, fortify your incident management by identifying the root cause right from TaskCall.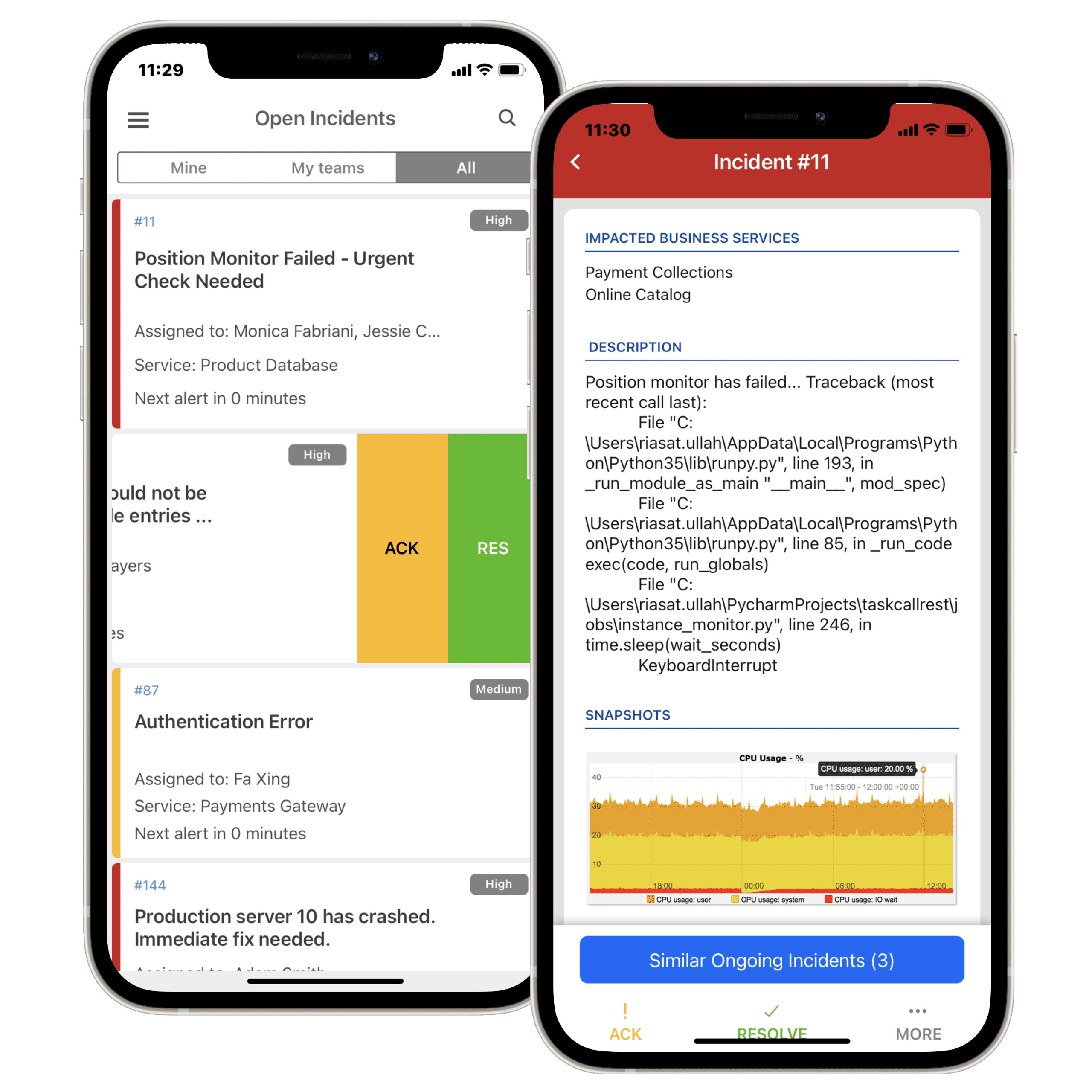 Incident management requires you to follow some basic principles. When an incident is assigned to you, you are expected to notify everyone else that you are taking ownership of it and confirm back once it is resolved. TaskCall simplifies this and introduces more tools to allow you to collaborate and seek for additional help when needed. Acknowledge, resolve, snooze, reassign or escalate incidents. Leave notes for later. Edit incident titles to contextualize more. There are more actions that can be taken. Use TaskCall's incident management to modernize your dev-ops.

Every minute of downtime is costly. Your time is precious. You need to act fast. TaskCall allows you to pre-configure multiple actions into a response set and run them with a click of a button allowing you to complete several actions in a second that would normally cost several minutes. Mobilize your incident management by using response sets. Automatically add more responders for additional support. Post status updates and subscribe users to receive them to avoid unnecessary interruptions. Add conference bridges so everyone can get on the call faster and catalyze the response effort.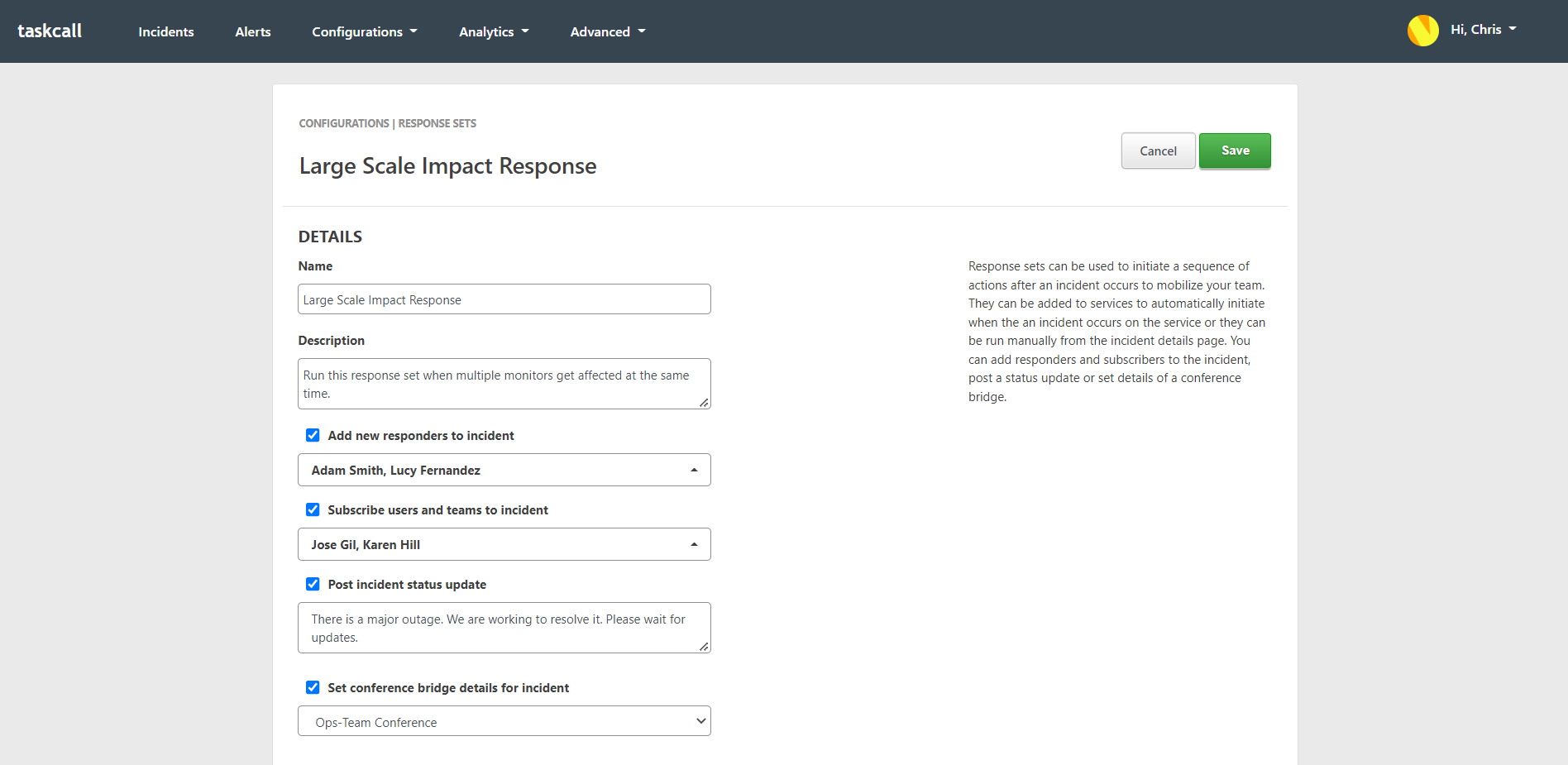 TaskCall is designed to automatically identify components of your system that get impacted by an incident based on dependencies you set. Sometimes components may not get included in the impact list when the context is not clear. In such cases, on-call responders can add new business impact for the incident if they identify one. Business managers and stakeholders can then know that they are being affected, reducing the need for unnecessary interruptions for the responder.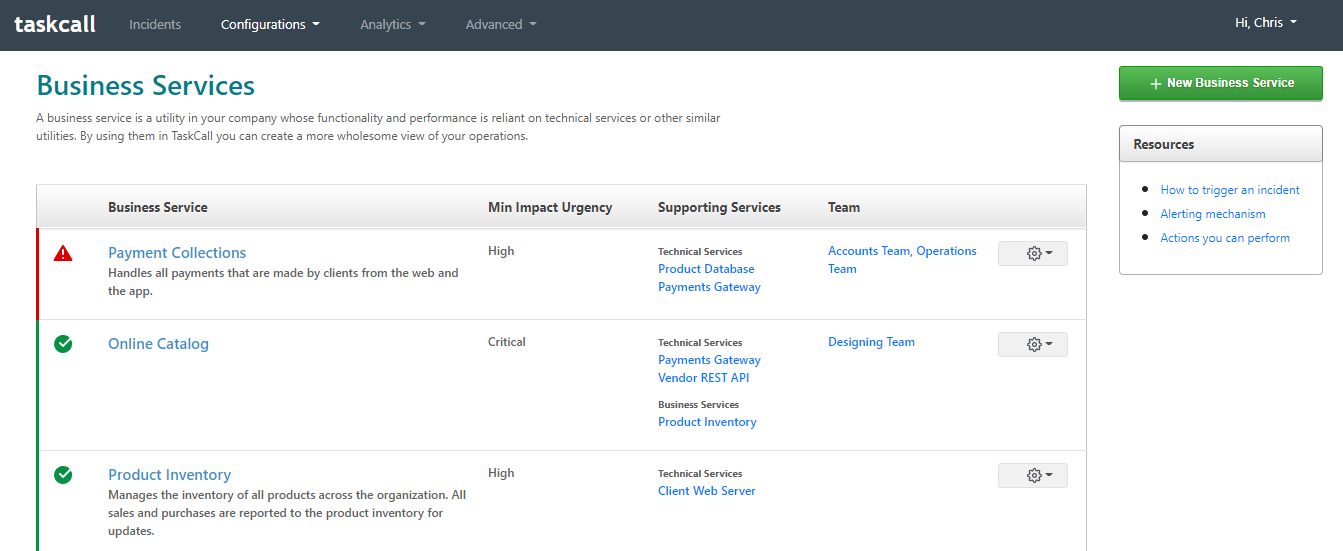 When multiple incidents occur at the same time, some of them might be related. TaskCall automatically identifies these similar incidents for you and gives you an easy view to compare the details. Incident management requires understanding of the cause of the issue. The more connections you can draw between similar errors, the faster you might be able to get to the root cause.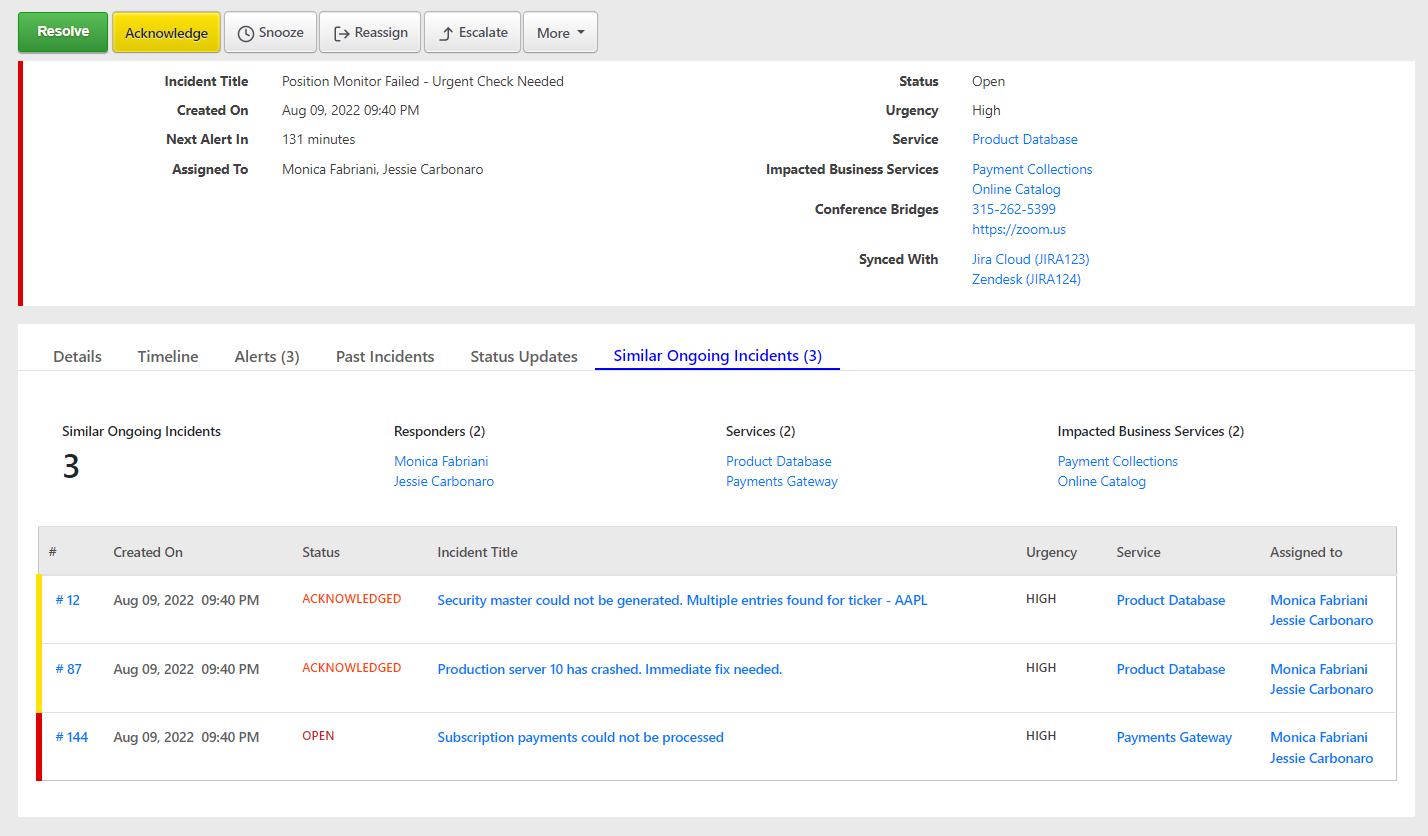 Dev-ops engineers work diligently, but it is practically impossible to build an unbreakable system. Each system falters at some point or the other. Some errors may not occur too frequently but periodically. In those cases, TaskCall acts as your reference point. It automatically identifies what other such incidents had happened in the past and helps on-call responders understand what was done back then to resolve the issue. Learning from past incidents does not just contextualize incidents more, but can also bolster the response process.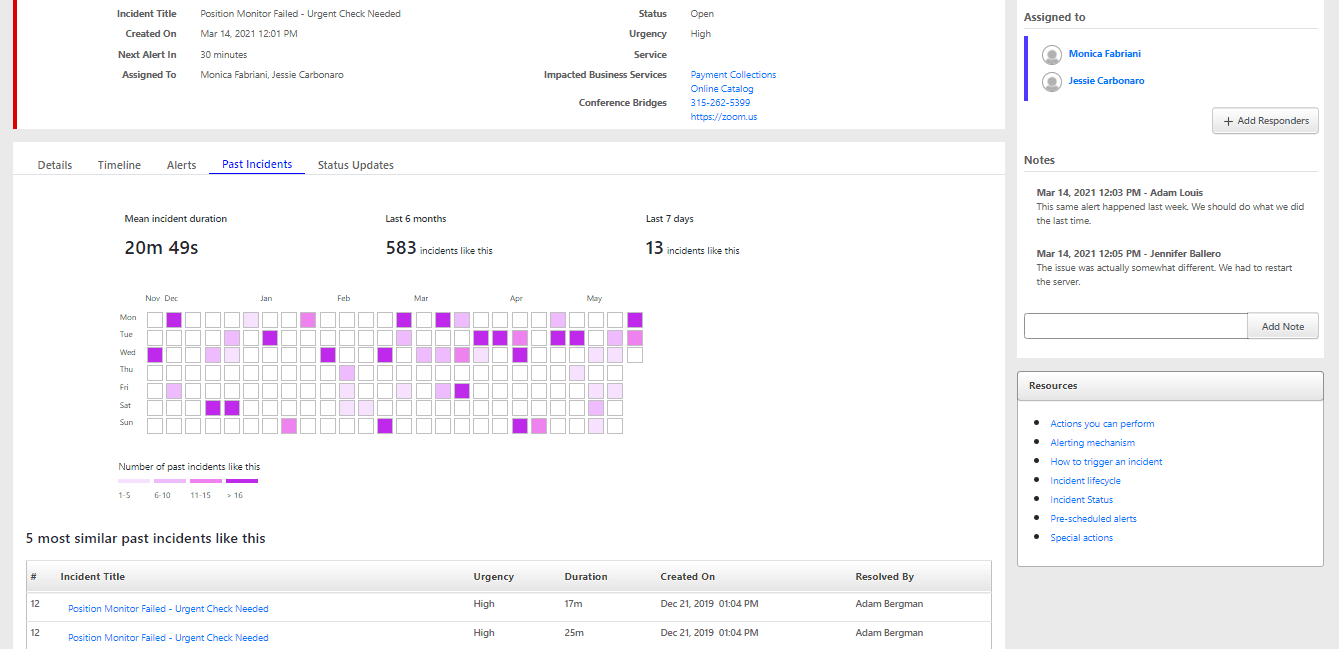 The worst time killers during an incident response process are interruptions. When an on-call responder is acting on an incident, getting interrupted by business managers and stakeholders with the same status check query is not merely redundant, but distracting and completely slows down the recovery process. However, at the same time, it is important for the intermediary and end users to get more insights about the system failure. TaskCall understands both sides and makes it easy for responders to send mass status updates to all the individuals concerned and those stakeholders can then get the status updates of all incidents being addressed by different responders from a single status dashboard. Stakeholders can also self-subscribe themselves to incidents for updates. Bring all your teams under one umbrella with TaskCall's incident management solution.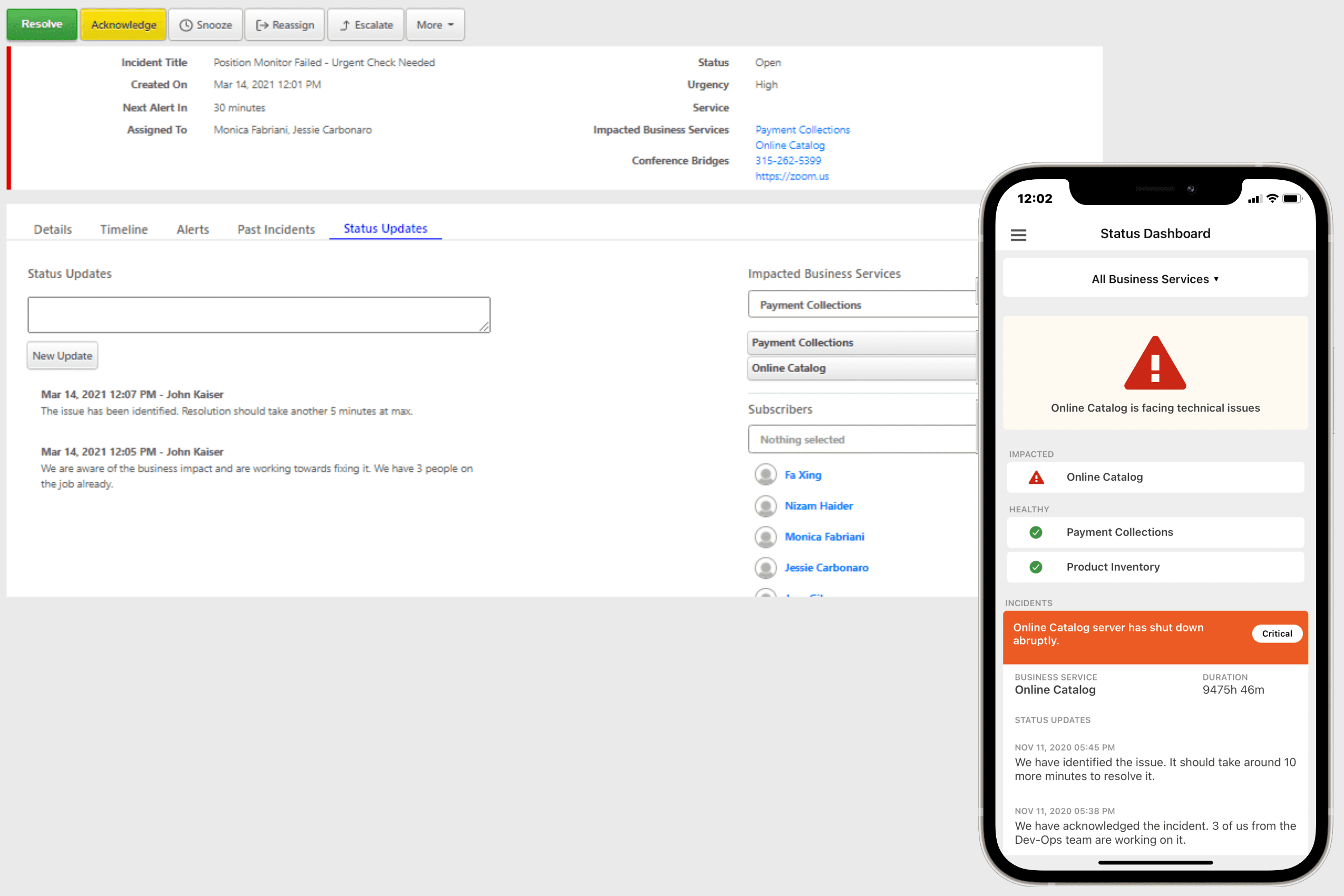 Dev-ops teams are not always able to push production ready solutions when an incident occurs. Sometimes a quick patch is introduced to get things moving. They may need to go back to the incident and create a more permanent solution. TaskCall ensures that you do not lose track of these project based works that need to be allocated for a later time. Sync up the incidents with your Jira or monday.com projects. TaskCall will automatically create a new item on your integrated project and sync up the priority and notes to make it easier for you to get started. Even in the middle of a tensed incident response process, TaskCall makes it easy for you to set aside your project based works, making incident management a singular experience as it should be for the modern dev-ops.